Recycled plastic sheets and boards
We offer various sheet options suitable for a wide range of applications
Illustrations below demonstrate uses of recycled sheet material used in outdoor applications as the material cannot rot and little or no maintenance is required.
The sheet size is nominal as there can be variations within recycled products, with variations in colour between batch productions.
Please do contact us on 01269 826740 for precise details. We welcome your individual enquiries to discuss the appropriate sheet for your specific application/project.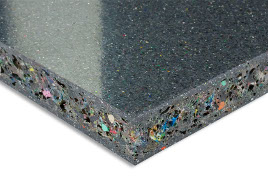 EKOply - 2.440 x 1.220 x 19mm
Speckled grey/black in colour
Skin and core structure with mix of colours in core
Most suitable for a range of applications where a more rigid sheet is required.
100% Recycled mixed plastics
Stokbord - 2.440 x 1.220
Offered in 6mm,9mm, or 12mm thickness.
Solid matt black colour throughout.
Most suitable for applications where a more flexible sheet option is required.
Make an enquiry
We collect and recycle your farm plastics. Loose or bagged polythene which can be clean or dirty: Tel: 01269 826740 or
Make an enquiry